Old Truck Buyer
Turn your old truck into cash!
List your truck for free!

Year to Date Donation Total: $15.00
1969 Chevrolet C20
Vehicle Details
Price: $17,500
Mileage: 46,000
Exterior Color: Blue
Interior Color: Blue
Engine: 8 Cylinder
Transmission: Automatic
Fuel: Gasoline
Drive: Rear wheel drive
VIN:
Description: FOR SALE: Chevy C20 Extra Long Bed Corpus christi, Texas The engine is from the 1980s - a Chevy 350. It was in the truck when he purchased to restore. It runs strong and has no issues. AC is new and blows very cold. All rubber is new and in great condition. There are no oil or other fluid leaks. I have added new mufflers to improve the sound. The tires and wheels are new and the lug pattern matched the Chevy truck pattern form that era - 8 lugs - 6" diameter. Also included are the original split rims. Brakes are the original drum brakes and function properly. All of the rubber for the windows and doors is new and there are no leaks. The bench seat is original and is in great shape. The truck is one that was originally built to carry a camper on the bed. The camper is no longer with it. Because of this it has an bed 6 inches longer than the standard production truck at the time. Its called a Longhorn - Camper Special. Bed length is 8'-6" long. I believe the wood floor slats are original and in great shape. Leaf springs are original and heavier to carry the camper. Rated at 3/4 ton.

Photos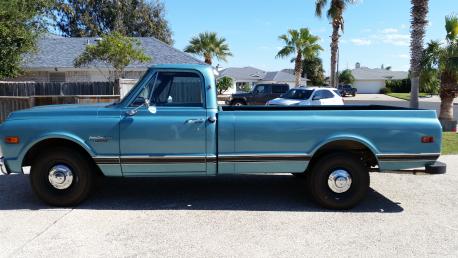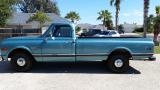 Seller Details
Name: Scott Mccoy
Location: Corpus Christi, Texas 78418
Contact the Seller